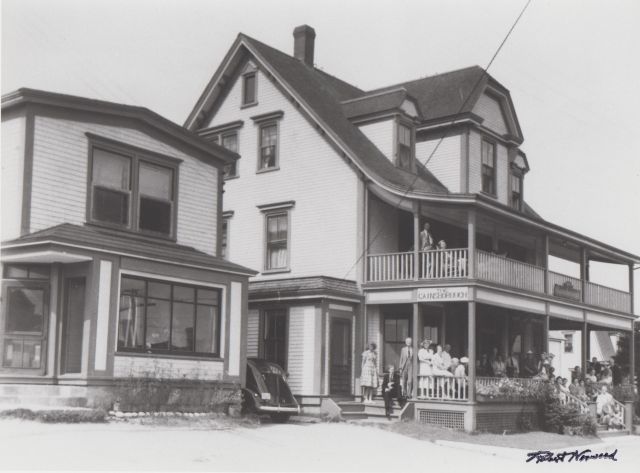 Rich in natural beauty and offering a large sheltered cove, Hubbards, on the eastern shore of the Aspotogan Peninsula in the St. Margarets Bay area, was once a popular summer fishing and hunting area for both the Mi'kmaq and the first European settlers of the 18th Century. The community then became a popular Victorian summer destination for people from the Halifax area and abroad. One of Hubbards' most well-known establishments was the Gainsborough Hotel, built by A.W. Shatford in 1884. The hotel was an elegant three-and-a-half-story building with verandas in the front overlooking smooth hills and sparkling water. At the Gainsborough Hotel, guests could partake in activities like swimming, tennis, rowing, and trout fishing.
By the mid-twentieth century, Hubbards' tourist industry was in decline. In 1944, the Gainsborough Hotel was sold to the government to be used as a merchant marine training centre. In later years, the historic building changed hands a number of times until, in 1960, it was demolished. The lot stood empty until 1969, when the site became home to the J.D. Shatford Public Library of the Halifax Public Libraries.
This digitized hotel register from 1928 – 1934 is one of the last keepsakes from the final peak years of the Gainsborough era. Each page has been indexed by surname and by residence. Enter a family name to see if you recognize any of the guests. Or, explore how many visitors from Pennsylvania or Bathurst, New Brunswick stayed during this tumultuous seven year period. A few famous individuals, such as Sir Wilfred Grenfell and John Dewey were guests, but what is the real identity of "Mr. and Mrs. Liberty" from New York City? Only the register knows for certain.
Copyright Property of Robert Norwood Photographs in the right of Edmund Norwood.